Sourdough Loaves
Recipe Submitted by Donna Young ..|.. Category: Breads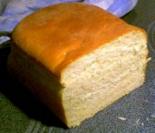 Ingredients
1 1/4 warm water
2 packages of dry yeast (or 5 teaspoons of dry yeast)
1/4 cup sugar
1 cup of sourdough starter
4 Tablespoons melted butter
2 teaspoons salt
2 eggs
5 1/2 cups to 6 cups bread flour
Directions
Proofing yeast: Warm mixing bowl with warm water then.. combine water, yeast, sugar in the mixing bowl. Stir, wait about 5 minutes. If bubbly continue, if not allow to sit for 5 more minutes. If bubbly continue. To the yeast mixture add starter, butter, salt, eggs, and stir. Add flour. Either knead by hand or by electric mixer. Knead until dough is smooth. Cover and let rise in a warm place for 45 to 60 minutes or until doubled.
Prepare loaf pans using either olive oil or butter. Punch down dough, divide into three equal pieces. Roll each piece into a rectangle of about 9 inches by 12 inches. Roll dough tightly and tuck under ends and place into loaf pans. Let rise in a warm place for around 30 to 45 minutes.
Bake at 375 for around 35 minutes or until the loaves sound hollow when tapped.
Recipe from Homeschoolforms.com, Site Maintained by Donna Young, of DonnaYoung.org