Ingredients
2 cups sugar
1-3/4 cups all-purpose flour*
3/4 cup Hershey's Cocoa
2 teaspoons baking soda
1 teaspoon baking powder
1 teaspoon salt
2 eggs
1 cup buttermilk or sour milk**
1 cup strong black coffee (or 2-teaspoons powdered instant in 1-cup boiling water)
1/2 cup mild olive oil
1 teaspoon vanilla extract
Directions
Preheat oven to 350. Grease and flour two 9-inch round baking pans or one 13x9x2-inch baking pan. In large bowl, stir together sugar, flour, cocoa, baking soda, baking powder and salt. Add eggs, buttermilk, coffee, oil and vanilla; beat on medium speed of electric mixer 2 minutes. Batter WILL be thin. Pour batter into prepared pans.
Bake 30 - 35 minutes for round pans, 35 - 40 minutes for rectangular pan. Cool 10 minutes; remove from pans to wire racks. Cool completely. Frost as desired.
*If using self-rising flour, omit the salt and baking powder, but add the baking soda because it reacts with the buttermilk.
**To sour milk: Use one tablespoon white vinegar plus milk to equal one cup.
Black Magic Cake Wrinkle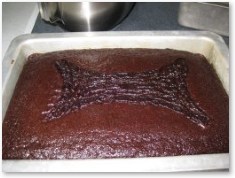 The black magic cake batter is very runny and that might have something to do with the wrinkled top that it always gets. I always bake Black Magic Cake in a 9x13 inch pan and the cake always forms this hour-glass shaped wrinkle. It could be nick-named the black widow cake. The wrinkle doesn't affect the cake; I just thought I'd show you a picture of it.
Serving the Cake: I do not frost this cake. Instead, I prepare toppings for the cake slices. When I serve a piece of cake I do the following: I slice off a piece of cake that measures around 2 1/4 inches square. I cut the piece of cake across the middle, like a sandwich. On the bottom slice I place a slab of vanilla ice cream that is approximatly 1/2 inch thick. Over the ice cream I pour a little raspberry sauce and then place the upper slice of cake on top of the ice cream/raspberry sauce. On top of the piece of cake I add some whipped cream, and chocolate syrup.