Lemon Sponge Cake - No Flour - Gluten Free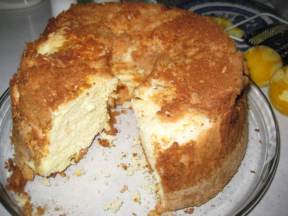 Recipe Submitted by Donna Young ..|.. Category: Cake
This recipe is from a container of Manischewitz Potato Starch. I've made it once as of this writing [May 7, 2010] and it was very good. It had a nice texture and was light.
Ingredients
7 eggs
1 1/2 cups sugar, sifted if lumpy
1 1/2 teaspoons grated lemon rind [use fresh]
1 1/2 tablespoons lemon juice [use fresh]
3/4 cup Manischewitz Potato Starch, sifted
dash of salt
Directions
Preheat oven to 350 degrees. Get your two piece 10 inch tube pan. Do not grease the pan.
Prepare the grated lemon rind and juice, set aside. Separate six of the eggs. Set aside the whites for now. Beat the six yolks and one whole egg until frothy. To the eggs add the sugar, the lemon rind, and the lemon juice, beating constantly and thoroughly. Then gradually add the sifted potato starch stirring constantly to ensure thorough blending.
Beat egg whites with the salt until stiff but not dry. Fold gently but thoroughly into the egg yolk mixture.
Place in ungreased 10 inch tube pan. Bake in a moderate oven (350 degrees F.) about 55 minutes or until cake springs back when touched gently with fingers. Invert pan and cool thoroughly before removing pan.
The Lemon Sponge Cake
The photo of the cake is not very pretty and that could be my fault. The cake was not completely room temperature when I removed it from the pan.
I'm not sure what fruit will compliment its lemony flavor, but I will pick up some strawberries and raspberries to go with the cake because my family likes them. And I will get heavy cream to make sweetened whipped cream.
Sweetened Whipped Cream
For 2 1/3 cups whipped cream: Beat 1 cup chilled heavy cream with 3 tablespoons sugar in a chilled bowl until stiff.]
Potato Starch
I use potato starch in gluten-free baking. I found the Manischewitz potato starch at my local grocery store, but later, after going through my stash of 4 canisters, I could not find it there. More recently I found a different brand [Bob's Red Mill] at Market Street in TX. I suppose what I am saying is, you might find potato starch locally or not. There is always amazon.
Manischewitz Potato Starch
Bob's Red Mill
Recipe from Homeschoolforms.com, Site Maintained by Donna Young, of DonnaYoung.org