Red, White & Blue Brownies in a Jar
Recipe Submitted by Nancy in FL ..|.. Category: Gifts in a Jar
Turn your chocolate brownies into "Blondies" with these recipe adjustments:
1) Omit Cocoa
2) Change White Sugar measurement to 1 1/4 cup
3) Change "To Prepare" ingredients to 3/4 cup Butter, softened and 3 Eggs, slightly beaten
Ingredients
1 1/4 Cups All-Purpose Flour
1 Teaspoon Baking Powder
1 Teaspoon Salt
1/2 Cup Cocoa
1/4 Cup Red Candy Coated Chocolates
1/4 Cup White Candy Coated Chocolates
1/4 Cup Blue Candy Coated Chocolates
1/2 Cup Chopped Pecans
1 Cup Brown Sugar, packed
1 Cup White Sugar
Supplies:
Ball Wide Mouth Quart Jar
Ball Wide Mouth Lid & Band
Jar Funnel
Jar Tamper
Recipe Card
Patriotic Decorations (Star garland, Forster Jumbo Woodsies Stars (painted) and tiny flag toothpicks)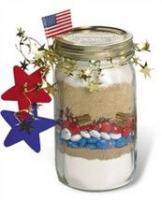 Directions
Combine Flour, Baking Powder and Salt until evenly blended. Put mixture into Jar. Layer remaining ingredients into Jar in order listed. Use a Jar Tamper to firmly pack each layer. Adjust Lid and Band. Makes base for one recipe of Red, White & Blue Brownies.
Decorate your mix-in-a-jar with red, white and blue accents for the perfect hostess gift at a cookout or barbeque. Be sure to attach a Recipe Card to the jar, complete with "To Prepare" ingredients and instructions.
Attach to jar:
Ingredients:
3/4 Cup Butter, softened
4 Eggs, slightly beaten
Brownies in a Jar mix
Preheat oven to 350F. Place brownie mix from Jar into a large mixing bowl. Add Butter and Eggs. Mix until completely blended. Spread into a lightly greased 9- x 9-inch pan. Bake at 350F for 35 minutes or until brownies just begin to pull away from the sides of the pan. Cut brownies into 2-inch squares. Makes about 16 Brownies.
Recipe from Homeschoolforms.com, Site Maintained by Donna Young, of DonnaYoung.org