Tropical PHILADELPHIA Cheesecake
Recipe Submitted by Donna Young ..|.. Category: Pie
Very nice recipe! You can substitute the limes with either lemons or oranges. The amount of coconut and sugar has been altered, original amounts are noted. This recipe is from the '60's.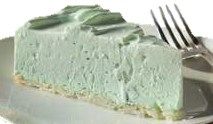 Ingredients
1 1/4 cup BAKER'S ANGEL FLAKE Coconut (original amount 1 cup)
2 Tbsp. flour
2 Tbsp. butter, melted (original recipe called for margarine)
1 envelope KNOX Unflavored Gelatin
1/4 cup water
2 pkg. (8 oz. each) PHILADELPHIA Cream Cheese, softened
1/4 cup sugar (original amount 3/4 cup sugar)
1 tsp. grated lime peel
1/4 cup lime juice
Few drops green food coloring (can be omitted)
1 tub (8 oz.) COOL WHIP Whipped Topping, thawed
Directions
PREHEAT oven to 350F. Mix coconut, flour and margarine. Press firmly onto bottom of 9-inch springform pan. Bake 12 to 15 minutes or until very lightly browned.
MEANWHILE, soften gelatin in water in small saucepan; let stand 1 minute. Cook on low heat 5 minutes or until gelatin is completely dissolved, stirring occasionally. Set aside. Beat cream cheese and sugar in large bowl with electric mixer on medium speed until well blended. Add dissolved gelatin, lime peel, juice and food coloring; mix well. Gently stir in whipped topping; pour over crust.
REFRIGERATE 3 hours or until firm. When ready to serve, run knife or metal spatula around rim of pan to loosen cake; remove rim of pan. Store leftover cheesecake in refrigerator.
Recipe from Homeschoolforms.com, Site Maintained by Donna Young, of DonnaYoung.org